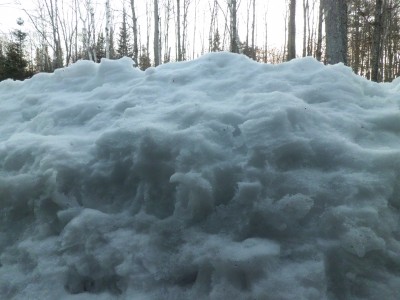 For my Readers who miss snow. You know nothing….
Craig flew off to Florida for a five day tennis extravaganza. The house responded by breaking things one by one. First, the Internet stopped working. Not slow. Stopped working. Batteries died in some of the smoke/carbon monixide alarms. Then the furnace went.  After conferencing with Craig, decided that we had run out of oil. But the fuel guys can't make it up our driveway this time of year. It wasn't so bad when the sun was shining because the largish windows created a solar effect. The nights were cold. Hank was invited, no commanded, to join me in bed. I remembered the expression "three-dog night" to describe the truly intense cold that people endured before conveniences were invented like indoor plumbing and central heating.  Hank was like a big heating pad. Could have used one more dog.
Functioning indoors when the temperature is  50 degrees entails operating equipment that generates heat like the oven and dryer and then huddling under several blankets and binge-watching Game of Thrones reruns. I was cold, but nothing like north of the Wall.