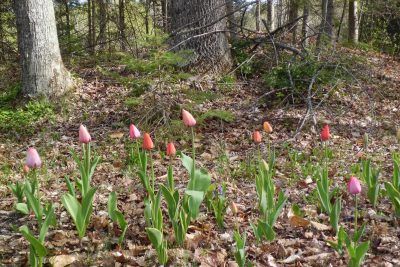 Tulips prevailing in spite of the deer, rabbits and other
creatures of the forest.
I need to think about two shows I watched last night. The latest production of Little Women by PBS and Westworld an HBO production. I have read Alcott's book several times through the years and watched the film too many times to count with June Alyson as Jo and Elizabeth Taylor as Beth. Jo is my favorite character and she is actually one of my first introductions to a feminist. Jo is forthright, authentic to herself and  frustrated with the constraints of a patriarchal world. She loves fiercely and does not suffer fools gladly. The most recent production is sumptuous and thoughtful. Then I watched Westworld. For awhile, I was drawn in by the parallels to our present times. I was thrilled when Delores and the character played by Thandie Newton (cannot think of her name) busted out of their miserable Groundhog Day robot roles and started to feel their power. Yes! They are going to change the world. And then, nothing changed. It seems that I cannot bear the violence and cannot bear the violence that these women perpetuate. One can understand that they have to protect themselves but do they have to command the hosts to kill their comrades. Can't they command them to sit down and have a meal? Sing a song? Go for a walk? I am serious. With real power comes responsibility. Where is the love? I mean it. Where is the love.