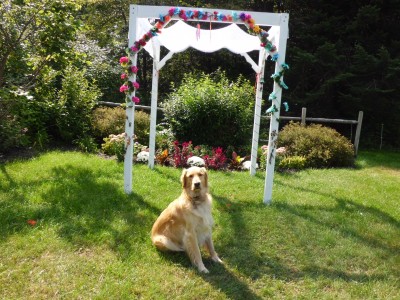 Hank posing in front of the Huppa
Erica and Vlad had a few "non-negotiables" when it came to their  wedding. First,  it would be located at our house in Vermont; second, Christopher would act as the Officiant and third, the ceremony would be held under a Huppa. There were other requests, but these are the ones that stand out.
Depending on the local custom and the preference of the bride and groom, the ḥuppa may be a simple Jewish prayer shawl (ṭallit) suspended from four poles, a richly embroidered cloth of silk or velvet, or a flower-covered trellis.
Erica visualized a portable unit that could be used in the Living Room if the weather did not cooperate. As it turned out, August 29 was a spectacularly beautiful day with high clouds and a gentle breeze. Erica mentioned something about dowels attached in a squarish pattern that could easily be lifted from location to location. She sent a box of vibrant flowers in anticipation of decorating the Huppa during the wedding week.
Craig did some research on the Internet and bought quite a bit of lumber. It looked like he was going to build a small chapel. Erica's Improv comedy kicked in and she decided that the Huppa was the back-up plan for rainy weather. In fact, the entire bridal party could stand under the Huppa if needed. Craig seemed puzzled. You asked for a Huppa, isn't this a Huppa? Yes, it is a fancy Huppa, not to be confused with Huppo which is Michele's nickname.